Price

RM209.00

RM310.00

Product SKU
GP-ASM2NE2256GTTDR
Brand
GIGABYTE
Size (L x W x H)
12 cm x 10 cm x 5 cm
Availability
In Stock
Shipping Fee
Quantity
Description
Highlight
Form Factor: M.2 2280
Interface: PCI-Express 3.0 x4, NVMe 1.3
Total Capacity: 256GB*
Warranty: Limited 5-years
Sequential Read Speed : up to 3100 MB/s**
Sequential Write speed : up to 1050 MB/s**
TRIM & S.M.A.R.T supported
AES 256 supported
- Kindly PM/ Inbox us before place order . We need check stock. Thank you.
♦Dear Value Customer, Please do a Video Record :
1. The Packaging Condition Of The Parcel On Arrival
2. The Process Of Unboxing The Parcel & Item
►FOR THE DAMAGES/FAULTY CLAIM PURPOSES ◄
♦--Any claim without video proof will not be entertained.--♦
♦---------------------- Thank You For Your Purchase ----------------------♦
♦Kepada Pelanggan Yang Dihormati , Sila Merakam Video:
1.Keadaan Bungkusan Bila Terima Barang
2.Semasa Membuka Bungkusan Bila Terima Barang
►BAGI TUJUAN KETIDAKSEMPURNAAN / TUNTUTAN KEROSAKAN◄
♦--SEBARANG TUNTUTAN TANPA BUKTI RAKAMAN VIDEO TIDAK AKAN DILAYAN--♦
♦----------------------------------------Terima kasih atas pembelian anda-----------------------------------------♦
♦尊敬的客户,请您录制以下视频作为包裹/产品损害/过失索赔的证据:
1.包裹到货时的包装情况
2. 包裹和产品的开箱过程
►用于损坏/故障索赔目的◄
♦--任何没有视频证明的索赔将不予受理--♦
♦----------------------------------------感谢您的购买-----------------------------------------♦
Interface
PCI-Express 3.0 x4, NVMe 1.3
Form Factor
M.2 2280
NAND
3D TLC NAND FLASH
External DDR Cache
512MB
Sequential Read speed
Up to 3100 MB/s
Sequential Write speed
Up to 1050 MB/s
Random Read IOPS
180K
Random Write IOPS
240K
Mean time between failure (MTBF)
1.8 million hours
Power Consumption (Active)
Average : R : 5085mW ; W : 3285mW
Power Consumption (Idle)
272mW
Temperature (Operating)
0°C to 70°C
Temperature (Storage)
-40°C to 85°C
Warranty
1. Limited 5-years or 380TBW.
2. Limited warranty based on 5 years or 380TBW, whichever comes first. (*TBW is evaluated by JEDEC workload standard. )
*TBW (Terabyte Written): Terabytes Written is the total amount of data that can be written into a SSD before it is likely to fail.
3. When the usage of an NVME SSD as indicated by the "Percentage Used" (SMART ID: 05) in SMART page of "GIGABYTE SSD toolbox" reaches 100 means out of warranty. (A new unused product will show the number of 0)
Note
• Test system configuration: configuration may vary by models, we will choose the latest platform for verification.
• Performance may vary based on SSD's firmware version and system hardware & configuration. Sequential performance measurements based on CrystalDiskMark and IOmeter 1.1.0.
• Speeds based on internal testing. Actual performance may vary.
• 1GB = 1 billion bytes. Actual useable capacity may vary.
* The entire materials provided herein are for reference only. GIGABYTE reserves the right to modify or revise the content at anytime without prior notice.
* Advertised performance is based on maximum theoretical interface values from respective Chipset vendors or organization who defined the interface specification. Actual performance may vary by system configuration.
* All trademarks and logos are the properties of their respective holders.
* Due to standard PC architecture, a certain amount of memory is reserved for system usage and therefore the actual memory size is less than the stated amount.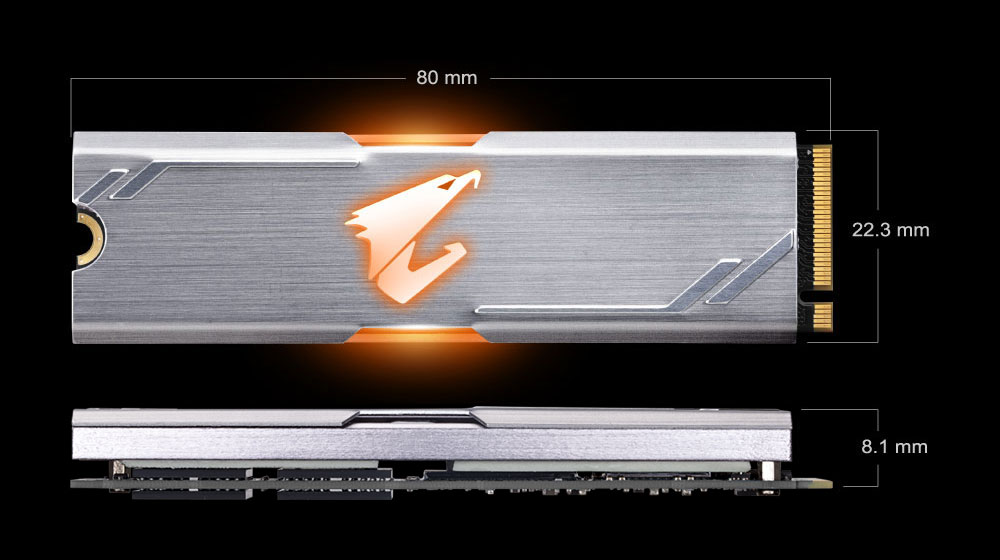 Reviews (0)
view all
back
What's in the box
Gigabyte Aorus RGB NVMe M.2 SSD (256GB)