Corsair LL120 RGB 120mm Dual Light Loop White RGB LED PWM Fan-Triple Pack with Lighting Node PRO
Price

RM469.00

RM529.00

Product SKU
CO-9050092-WW
Brand
Corsair
Size (L x W x H)
14 cm x 11 cm x 18 cm
Availability
In Stock
Shipping Fee
Quantity
Description
Highlight
-LET YOUR LIGHTS DO THE TALKING
-DUAL RGB LIGHTING LOOP
*Complete your CORSAIR LL RGB-cooled system with an additional fan, featuring 16 individually addressable RGB LEDs split between two separate light loops.
-Switch through various profiles.
*SPIRAL RAINBOW
*ARC
*COLOR SHIFT
*STATIC WHITE
*RAINBOW WAVE
-STRIKING WHITE HOUSING
*Reflects light for brighter lighting and matches the clean, refined look of other white CORSAIR products.
-INTELLIGENT CONTROL, UNLIMITED POSSIBILITIES
-COMPLETE PWM CONTROL
*Dynamically control fan speed from 360 RPM to 2,200 RPM to minimize noise or maximize airflow.
- Kindly PM/ Inbox us before place order . We need check stock. Thank you.
♦Dear Value Customer, Please do a Video Record :
1. The Packaging Condition Of The Parcel On Arrival
2. The Process Of Unboxing The Parcel & Item
►FOR THE DAMAGES/FAULTY CLAIM PURPOSES ◄
♦--Any claim without video proof will not be entertained.--♦
♦---------------------- Thank You For Your Purchase ----------------------♦
♦Kepada Pelanggan Yang Dihormati , Sila Merakam Video:
1.Keadaan Bungkusan Bila Terima Barang
2.Semasa Membuka Bungkusan Bila Terima Barang
►BAGI TUJUAN KETIDAKSEMPURNAAN / TUNTUTAN KEROSAKAN◄
♦--SEBARANG TUNTUTAN TANPA BUKTI RAKAMAN VIDEO TIDAK AKAN DILAYAN--♦
♦----------------------------------------Terima kasih atas pembelian anda-----------------------------------------♦
♦尊敬的客户,请您录制以下视频作为包裹/产品损害/过失索赔的证据:
1.包裹到货时的包装情况
2. 包裹和产品的开箱过程
►用于损坏/故障索赔目的◄
♦--任何没有视频证明的索赔将不予受理--♦
♦----------------------------------------感谢您的购买-----------------------------------------♦
Fan Warranty: Two years
Fan Size: 120mm x 25mm
Bearing Type: Hydraulic
LED Color: RGB
Operating Voltage: 7V - 13.2V
PWM Control: YES
CORSAIR iCUE Compatibility: YES
Fan Model: LL Series
Package Quantity: Three Pack with Lighting Node PRO
Speed: 2200 +/- 10% RPM
Sound Level: 36 dBA
Power Draw: 0.30 A
Static Pressure: 3.0 mmH2O
Fan Airflow: 63 CFM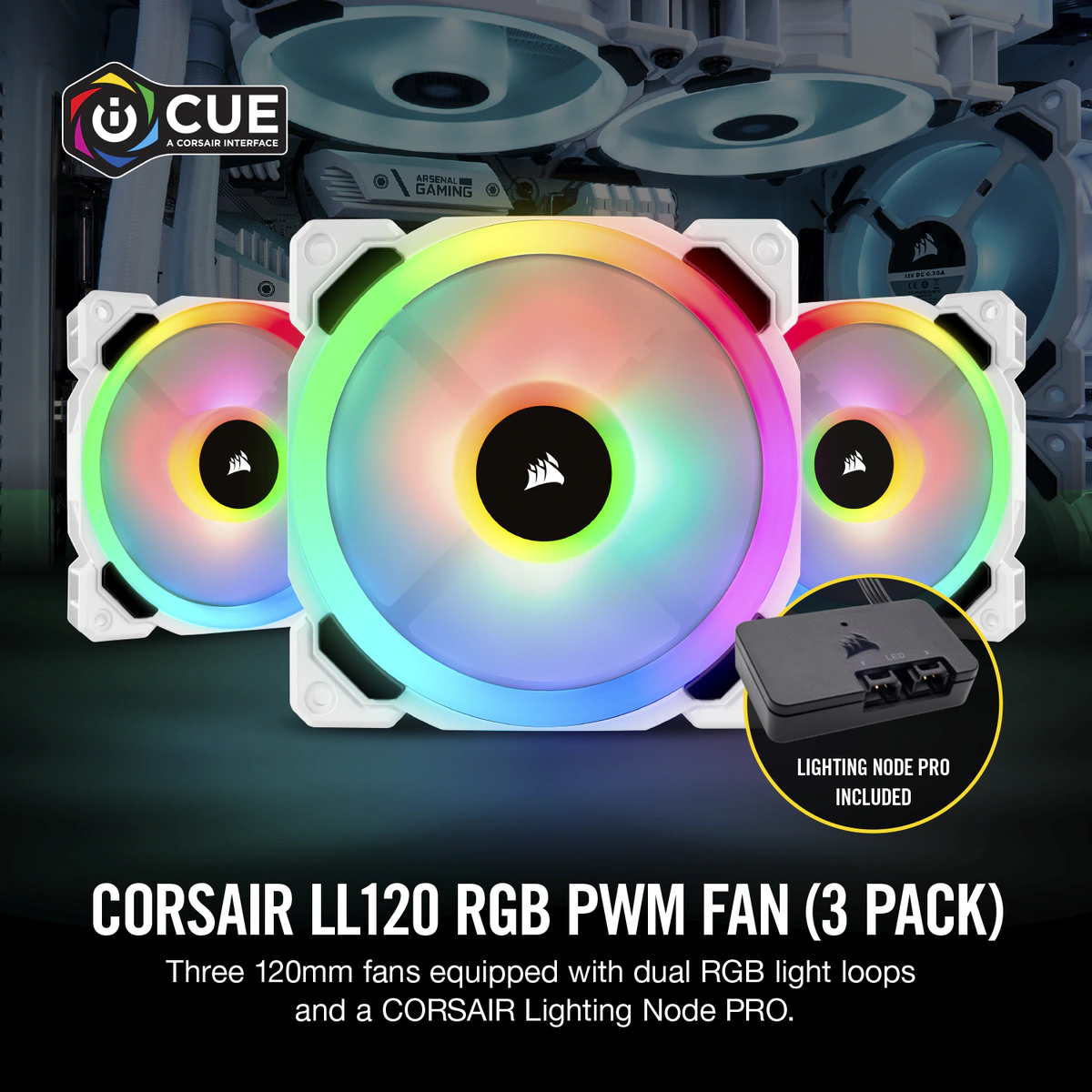 Reviews (0)
view all
back
What's in the box
Corsair LL120 RGB 120mm Dual Light Loop White RGB LED PWM Fan-Triple Pack with Lighting Node PRO